Real Mushrooms Turkey Tail for Cats and Dogs - Immune Support
Regular price
$34.95 USD
Sale price
$34.95 USD
Unit price
per
Sale
Sold out
View full details
Want to give your furry friends the best care possible? Real Mushrooms Turkey Tail for Cats and Dogs is a top-notch supplement that provides natural immune support to your pets. With mushroom turkey as the main ingredient, It contains various powerful antioxidants and other compounds that may help boost your immune system and even help fight certain cancers. Not only that! These supplements also provide some benefits to your pets. 
Here are a few ways turkey tail mushrooms can help your pet:
Boosting the immune system:

Turkey tail mushrooms have unique compounds that strengthen your pet's immune system and fight infections, immune deficiencies, and malignant cell growth.

Reducing inflammation:

Turkey tail mushrooms contain bioactive molecules with antioxidant and inflammation-balancing effects, which can help alleviate mild pain and make your pet feel more comfortable.

Protecting vital organs:

Research indicates that extracts from turkey tail mushrooms can safeguard the liver against damage from medications like steroids and chemotherapy. Furthermore, it may shield the heart from damage associated with diabetes.

Fighting infections:

Scientists have looked at turkey tail extracts to see if they can fight harmful germs like viruses and bacteria.

Fighting cancer: The supplement that contains turkey tail mushroom extract has a dual effect when it comes to fighting cancer. It can activate elements of the immune system to defeat pathogens and also has a direct cytotoxic effect on them.
So, what are you waiting for? Try Real Mushrooms Turkey Tail for Cats and Dogs today to support your pet's immune system, reduce inflammation, and protect vital organs!
Standard Shipping 3-5 business days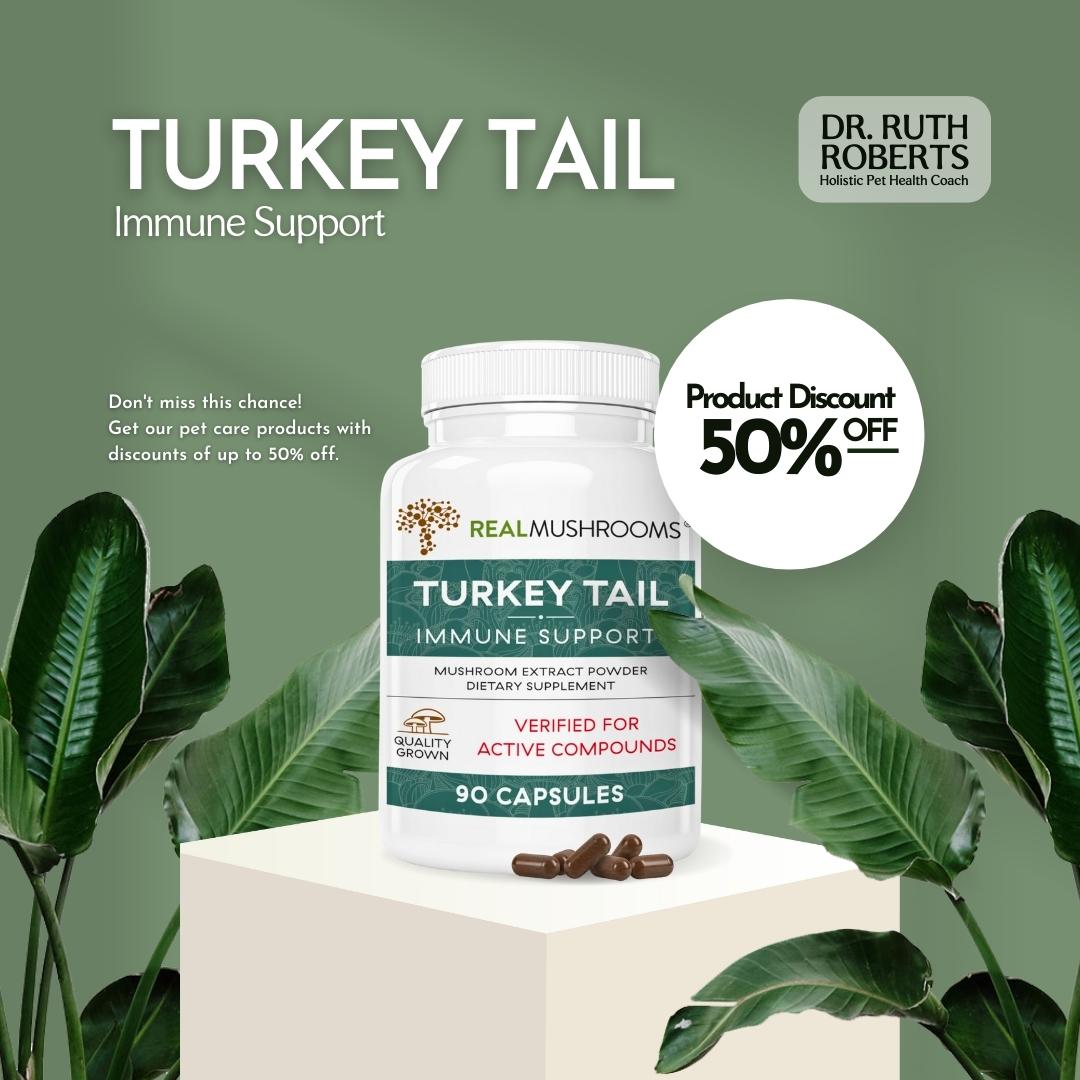 Customer Reviews
Write a Review
Ask a Question
08/27/2023
Leslie P.

United States
I was disappointed that the delivery charge was $11.00for a small flat envelope that the product was in. Time will tell how successful the results will be because my dog has only been on it for a week. Hopefully it's great