Regular price
Sale price
$95.00 USD
Unit price
per
Sale
Sold out
Choose a Purchase Plan:
AnimalBiome Gut Restore Supplement For Cats is the natural solution for feline gut restoration. With its carefully selected blend of ingredients, this supplement harnesses the power of nature to promote optimal health for your cat's digestive system. Discover the benefits of this incredible supplement in a convenient listicle format:
Naturally Restores Gut Health: This Gut Restore Supplement is carefully formulated to naturally restore your cat's gut health. By introducing beneficial microbes that are specific to cats, it helps rebalance the gut microbiota and promote digestive harmony.

Convenient Alternative to Invasive Procedures: Say goodbye to invasive surgical procedures! This Gut Restore Supplement provides a convenient and non-invasive alternative to fecal microbiota transplant (FMT). It offers the same level of effectiveness without the discomfort and risks associated with surgery.

Potent and Targeted Formula: Unlike probiotics and prescription diets, this supplement is more potent and specifically designed for feline gut restoration. It delivers a concentrated dose of beneficial microbes, ensuring a targeted approach to addressing digestive issues.

Addresses Chronic Digestive Issues and Skin Conditions: If your cat suffers from chronic digestive issues such as diarrhea, vomiting, constipation, or skin conditions like itchy skin and atopic dermatitis, this supplement can provide relief. It tackles these common problems at their root cause, helping to alleviate symptoms naturally.

Promotes Well-Formed Stool and Easy Passage: No more struggling with irregular bowel movements! This Gut Restore Supplement supports well-formed and easy-to-pass stool, ensuring your cat's comfort during bathroom visits.

Supports Digestive and Immune Health: A healthy gut is vital for overall well-being. This Gut Restore Supplement not only improves digestion but also supports your cat's immune system. By restoring gut balance and promoting a healthy gut microbiota, it enhances your cat's natural defenses.

Soothes the Intestinal Tract: If your cat experiences discomfort due to digestive issues, this Gut Restore Supplement can help soothe the intestinal tract. It provides relief from inflammation and irritation, allowing your cat to enjoy a calmer digestive system.

Enhances Skin and Coat Health: The gut-skin connection is real, and this supplement recognizes it. By addressing gut imbalances, it promotes healthy skin and coat in your cat. Say goodbye to itchy, irritated skin and hello to a lustrous and vibrant coat.

Naturally Nourishes and Supports Well-Being: This supplement is a natural source of support for your cat's overall well-being. It works gently and harmoniously with your cat's body, providing the necessary nutrients and balance for optimal health.

Veterinarian Recommended: Rest assured, this Gut Restore Supplement comes highly recommended by veterinarians. With its impressive track record of improving clinical signs in 83% of cats, it has gained the trust and endorsement of professionals in the field.
Choose the AnimalBiome™ Gut Restore Supplement For Cats and give your feline friend the gift of naturally restored gut health. With its impressive benefits and natural approach, it's the ultimate solution for promoting digestive and immune health in your beloved pet
Ingredients

Prescreened feline fecal material sourced from select healthy cat donors who live in homes, rigorously tested for pathogens, parasites, and healthy microbiome composition. Learn more about our donor screening process here. Inactive ingredients: Glycerol, and vegetable capsule. This is a natural product. Some variation in color is normal.
Direction for Use

Give capsules whole, by mouth, for at least 30 days. Do not open or crush capsules. If the cat is particularly sensitive to new supplements, we recommend starting by giving just 1 capsule and waiting 3-4 days before giving the next one. Then, you can gradually move towards more frequent dosing. If the cat is currently stable, give 1 capsule daily for the first 3 days, then progress to more frequent dosing according to this dosing chart..
Shipping

Standard Shipping 3-5 business days
View full details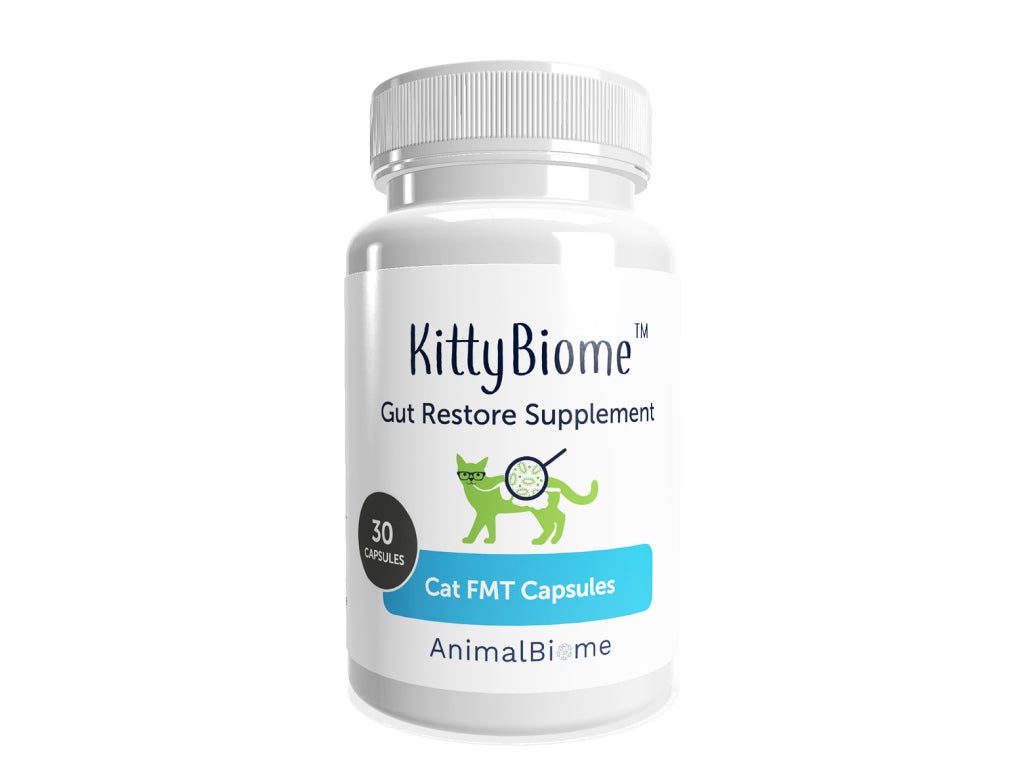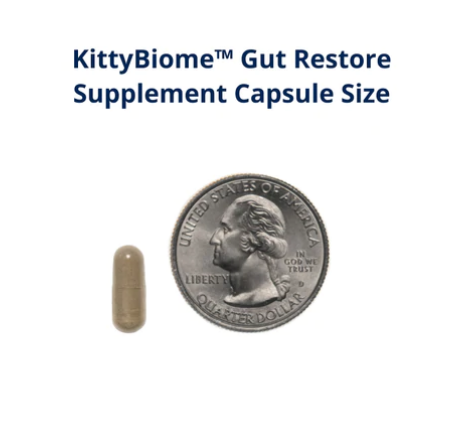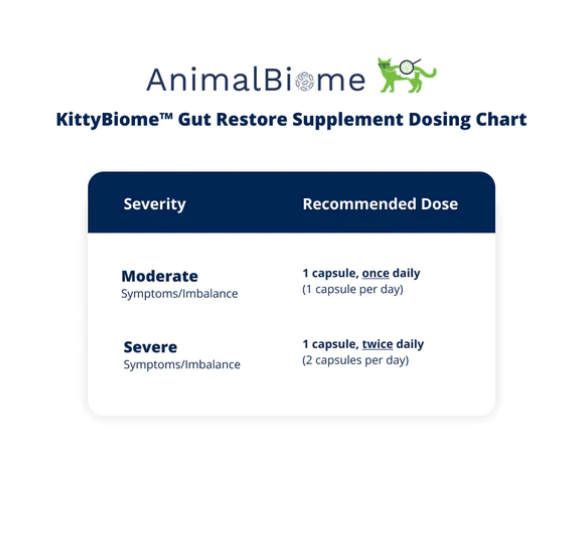 Customer Reviews
Write a Review
Ask a Question
01/13/2023
Richard C.

United States
So far so good
After a microbiome test, our vet suggested a Biome Retoration protocol and recommended Kitty Biome by name. His biome was out of balance and he had many years of melial dermatitis that we had attempted to treat holistically. We are a week into the 30 day protocol and he has not had a bad reaction and though I may be a bit of a doting father and watch for any little change in the dermatitis, I have to say, it seems to be receding. We will do another biome test at the end of the treatment and have a better gauge on how effective the FMT protocol has been